WordPress is the largest CMS (Content Management System) powering millions of websites. This has resulted in many web hosting providers focusing on WordPress. One of these hosting providers is WP Engine.
WP Engine has excellent WordPress-specific hosting features, especially for those who need a lot of space and high-level security.
It doesn't have everything you'd want in a hosting provider, though, which is why you might need a different provider if your needs are extensive.
The managed cloud hosting platform offers excellent uptime, WordPress-oriented security, cloud platform flexibility, daily backups, and other terrific features.
However, it has some minor downsides, for instance, you need a different provider to host your email and domain names.
This WP Engine review will look at WP Engine's managed WordPress hosting plans, features, pros, and cons of hosting your WordPress website with them.
WP Engine Compared to Other Web Hosts
WP Engine is one of the more expensive WordPress hosts around, but its quality more than makes up for the high cost. You get a lot for your money, from standout features to excellent performance and security.
This is one of the most powerful hosting companies around, and it excels at WordPress hosting in particular. Its managed WordPress service is fast and reliable, which only adds to its appeal.
When choosing a web host you can go with a huge brand and pay more for the privilege, or you can choose a smaller company that offers similar services for a lower price.
Of course, I wouldn't recommend signing up just because hosting is cheap. This is why we have partnered with WP Engine and why today I am sharing this WP Engine hosting review with you.
With over 60,000 customers in 120 countries around the world, WP Engine is easily one of the biggest WordPress-focused hosts.
Who is WP Engine Best for?
WP Engine is a managed WordPress hosting service that offers high-quality performance and support. If you are looking to take a hands-off approach to your website hosting, then WP Engine could be for you.
What makes WP Engine stand out is its performance, security, backup, cloud platform flexibility, WordPress migrations, and finally optimization. IF you are struggling with these things, WP Engine might just be for you.
WP Engine managed WordPress or eCommerce hosting is best suited for
Medium to large publishers

WordPress websites that have full e-commerce functionality and rely primarily on online sales

Fast-growing startups

Professional Web designers and Web Developers
One of the main benefits of WP Engine hosting is that it offers automatic WordPress installation. The service also includes a range of developer tools such as staging sites and helps developers code faster and smarter.
WP Engine only provides managed hosting for WordPress websites. You are not choosing between VPS or dedicated servers, if your website has high traffic WP Engine is the better solution.
WP Engine WordPress Plans
WP Engine's managed hosting plans are divided into 5 tiers, the 5th plan is a custom plan for those running more that 30 websites.
Startup
The Startup plan (starting at $30 per month) offers one WordPress installation, 25,000 monthly visitors, 50GB of monthly data transfers, and 10GB of storage.
Professional
The Professional plan (starting at $59 per month) gives you three WordPress sites, 75,000 monthly visitors, 15GB of storage, and 125GB of monthly data transfers.
Growth
The Growth plan (starting at $115 per month) gives you 10 WordPress installations, 100,000 monthly visits, 20GB of storage, and 200GB of data transfers per month.
Scale
The Scale plan (starting at $290 per month) features 30 WordPress sites, 400,000 visits per month, 50GB of storage, and 500GB of monthly data transfers.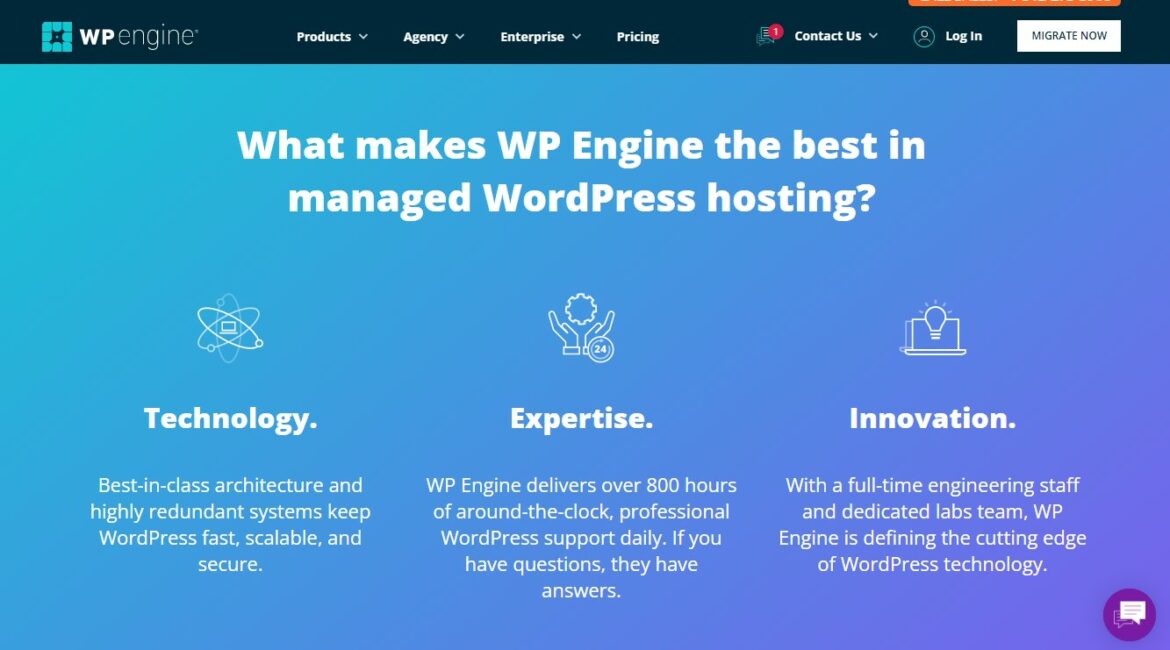 When you run an online business, numerous factors contribute to the success of your website. One of the most important factors is your web host.
A good web host will provide both fast loading times and great customer support. As such, it's important to find a web host that meets your needs.
As a company that primarily focuses on managed WordPress hosting, the WP Engine team has been able to focus on providing a quality product. The WordPress platform is what they've focused on from day one.
They've built their plans and pricing packages around WordPress, and have put together resources, support options, and even tools to build successful online businesses.
It's also important to mention that WP Engine is one of the few service providers that provide excellent support for growing businesses. You can upgrade your plan as you grow and pay for what you need. This is not an option with other providers in the same niche.
WP Engine offers a comprehensive list of features that are tailored for those who run online businesses. To start with, you get access to a collection of 35+ StudioPress themes which are highly optimized and professionally designed.
It can take a steep learning curve to learn to find your way around using WP Engine. They have data centers around the world to pick from
United States
Australia
Canada
Belgium
Taiwan
United Kingdom
Germany
WP Engine Pros Why We Partnered with WP Engine
This WordPress hosting platform makes it easy to build, deploy, scale, and manage WordPress sites. With our advanced security features and top-tier performance, WP Engine is the best place to host your WordPress sites.
WP Engine takes care of all your WordPress hosting needs so you can focus on the more important aspects of your business or personal blog, portfolio, or eCommerce store. They offer secure hosting backed by our 99.95% Uptime Commitment and 24/7 support.
WP Engine is a managed WordPress hosting company that provides dedicated WordPress hosting like no other. Some of their benefits include:
Data centers in the US and UK
Great loading speeds
High Performance
Advanced Security
Exceptional customer support
Staging Environments
Transferable installs
Many companies have seen improvement in overall site performance when using WP Engine. Nothing major compared to other managed WordPress hosting services but good enough for us to notice and recommend them as an option if you are running a high-traffic WordPress site. They combine the NGINX with a built in Content Delivery Network and SSD technology to make your website loads fast.
WP Engine has an extensive list of features designed to make your website faster, more reliable, and secure. All plans come with unlimited visits per month, 50GB bandwidth, 10GB local storage, and 24/7 support.
All WP Engine plans come with advanced security features including one-click restore points, brute force attack protection, two-factor authentication, and daily malware scans.
Exceptional customer support
WP Engine offers 24/7 technical support via live chat (on average less than 1-minute wait) or email. They also offer phone support by request. Their support team is based out of their office in Austin, Texas. They are also available through their ticketing system if you prefer that method of contact. They also provide a helpful knowledge base where you can find solutions to
Staging environments are crucial for testing new features on your website without affecting the live site. WP Engine has staging environments for all sites hosted by them. It's easy to use and has been working flawlessly during my testing.
When you start using WP Engine, they give you one install that can be used by only one website. If you purchase an additional install, you can use the same install on another site that uses the same theme and plugins as the main site. This is great if you want to test something without interrupting your live site.
WP Engine hosts sites only on its proprietary EverCache architecture designed to ensure faster load times through features like a global CDN and one-click staging and version control. You can't choose your server location, but the company guarantees a 99.95 percent uptime with daily backups to keep your data safe.
If you're looking for a host that can handle anything other than WordPress, this isn't the right host for you. You can probably find shared hosting that would be a better fit.
If you have a WordPress site (or collection of sites) that receives decent traffic (more than 10,000 visits/month) and that you critically need to keep online and not get hacked, then WP Engine is excellent. If you are a startup or are doing anything innovative with WordPress, then consider WP Engine worth the price tag. It's probably not for hobby bloggers or those just starting out.
No Domains or Email Hosting
WP Engine does not offer email services. So if you're using Google Apps for your email, you'll need to transfer your email service elsewhere. Keep this in mind when choosing a WP Engine hosting plan. You'll be limited to the number of websites and visitors supported by your plan unless you upgrade your email service elsewhere.
WP Engine offers five plans: StartUp, Professional, Growth, Scale and a custom plan for over 30 websites. These plans differ in their monthly visit allowances and the number of sites allowed per plan.
However, all plans are billed monthly or yearly and there is no way to choose a different billing cycle (quarterly). This makes it difficult to reduce costs if your site traffic drops suddenly or you want to cancel the service at some point during the year.