The way we are building websites is broken. It's slow, frustrating and often produces poor results. Growth-driven design the best way build a website that grows with your business.
A lot of people talk about the right way to design a website. There are dozens of books, blogs, and online videos that provide advice on design strategies. Your business has a website. Yay! That's the first step to success. Awesome, right? But did you know that only 28% of B2B websites have a documented strategy for lead generation?
Lead generation is the point of having a website in the first place. This means that if you're using conventional methods or ignoring data from your site, you may not be getting the results you want.
It's a combination of methods, best practices, and tools with the goal of maximizing customer acquisition and user engagement. The ultimate goal of growth-driven design (GDD) is to create a website that people love.
In this article, I will share a different approach to designing websites: growth-driven design. It's an alternative to the traditional website design approach. Unlike traditional web design which relies on gut feeling and intuition, GDD uses data to make informed decisions.
Defining Growth-Driven Design
What exactly is Growth-Driven Design? What does it look like in action? GDD is a smarter approach to web design that eliminates all the headaches and drives optimal results using data. Your website continues to evolve as your business evolves.
What is Growth-Driven Design?
Growth-Driven Design (GDD) is an efficient approach to website design and maintenance that succeeds in minimizing the risks of traditional web design. This systematic approach
reduces your launch time by using data and continuous learning. GDD improves the whole company.
A website developed with a GDD framework evolves and adapts to user behavior. This is results in a peak-performing website because of continuous learning and iteration using
data. That is very different from traditional website design, which is a once-off event and out-of-date at launch.
Instead of redesigning your website every 2 to 3 years with content that is stale and not aligned with company goals, GDD has an iterative approach.
GDD focuses on iterations or sprints, which are shorter timeframes to update and improve your website. This is less risky and costly than transitional website design.
With GDD changes to the website are informed by data and continuous learning. Continuous learning means research gathered from how people interact with your website. Instead of your marketing team being preoccupied for months, GDD integrates your marketing and sales teams.
Information gathered from the website is then used to share new ideas and tactics with your sales and marketing teams.
GDD brings an adaptive model that brings your digital marketing plan to life. A business can adapt its marketing to the changes in the market and tackle obstacles as they come.
HubSpot's Luke Summerfield illustrates the cost and time associated with traditional website design compared to growth-driven design.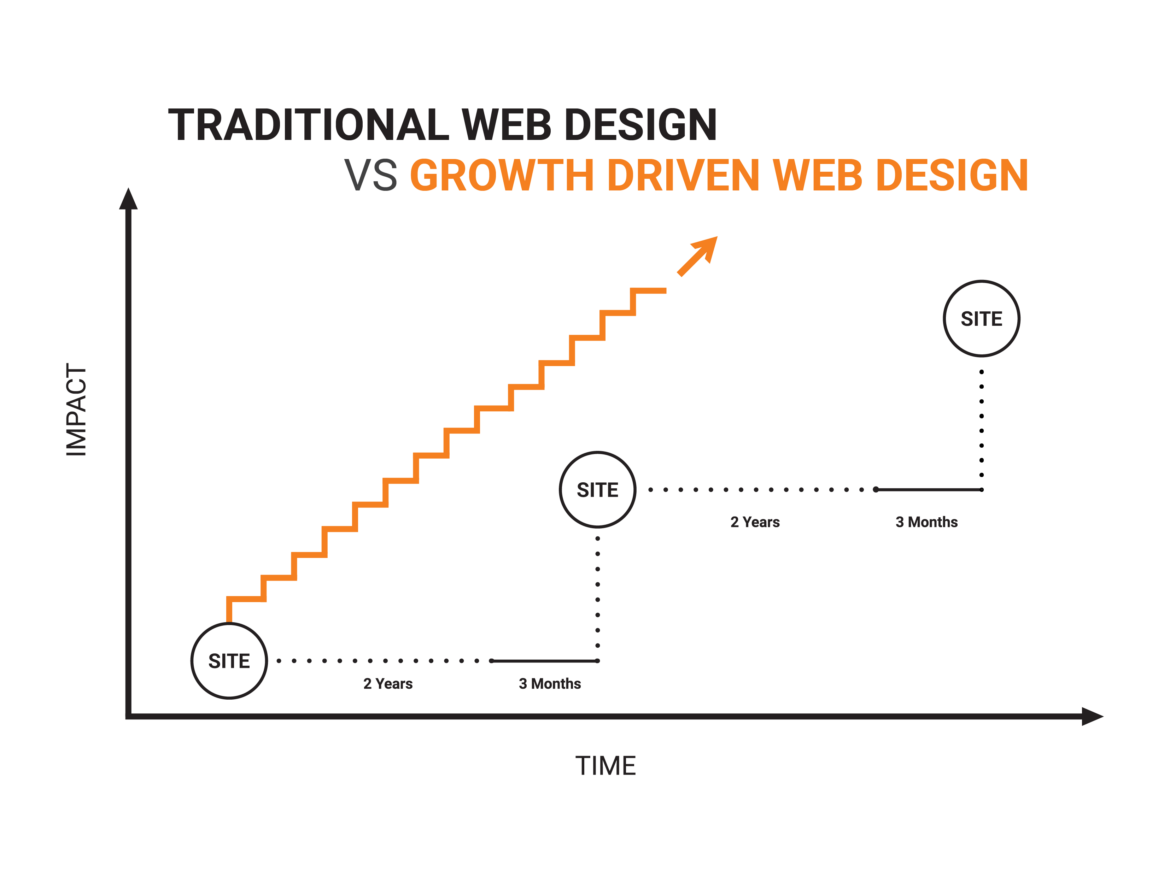 How Does Growth-Driven Design work?
Growth-driven design is not a silver bullet. But it can help push you ahead of your competitors and give you a competitive edge. GDD has three phases:
Strategy phase
Launchpad phase
Continuous improvement phase
At The Brand Shop, we believe that your website is your number one salesperson and that it should be the center of your marketing strategy. We perform website redesigns only for companies that have an expressed growth plan that uses a website to connect with customers.
If a company does not have a growth plan, we help them build one.
A growth-driven design website strategy is the process of understanding the user's world and how your website solves problems for them.
This strategy phase focuses on the big picture of what you want your website to be – this is where it all comes together. In this phase, we set goals and run user tests to make sure that you know what your users want. The goal of these activities is to identify real issues and opportunities, then develop a good hypothesis of where to invest resources next.
The strategy phase takes 5 weeks, in this time we develop a tailored website strategy for your company. You get to know the team of designers, strategists, project managers, and developers who will be working on the project. We then analyze data from your old website and prepare a plan for your new one.
We will do a website and analytics audit. When studying the data we will look at the quantitative data, to understand how users interact with the current website. How they find your website, what their pain point is when interacting with the website and why
they leave.
This research will help us identify opportunities for the site to improve the user experience and serve users better. Part of the results of this process will have us make fundamental assumptions about:
Why do people visit your site?
What value do they get by visiting?
How do they use it?
Generally, you will learn why people take the actions they do, and you will be better equipped for your overall strategy.
The Wish list
We will work with you and brainstorm a wish list for how you would like the website to serve all stakeholders. Also, we will include everything you will like on the website (new modules, new design or navigation features, integrations, functionality, or additional pages).
As the saying goes, Rome was not built in a day. We will then organize the list with the most urgent or core feature at the top of the list. We will focus on the must-haves over the nice-to-haves.
Once the core list is complete, and the website strategy blueprint is set, the website is ready for the Launchpad phase.
The Launchpad phase is about designing and developing the website. We design how the site will fundamentally look that is the Home, Services, About us pages, and other core elements. This site we call the Launchpad.
This process involves you meeting with the team (project manager, designer, and strategist) often, to review the website design and sketches, project progress, strategy alignment, and more. The content creation for the website will be done by you and the team as the Launchpad site is developing.
The following steps are similar to a traditional website design process and they are:
Designing the content and messaging
Information architecture
Wireframing and design
Programming and development
Site UX testing
Once all this is done, we launch the site quickly and start collecting data on how users interact with the Launchpad. We will use these findings to inform steps to be taken in the next phase of the GDD process.
Continuous Improvement Phase
With the Launchpad site live, we collect user data and research user behavior to look for ways to better the website. The research involves heatmaps, traffic analytics, A/B testing, and other sources of information.
With this information, we make tweaks to the design, conversion paths, pages structure, landing pages, and content to better the user experience. This involves creative tests that are to optimize the site elements given the data.
From the time the Launchpad is live, the exercise lasts 6 months with us. User experience is central to the actions we take, which is understanding how the users use the website. Anticipating what they may think or say at every turn, leads to gathering and analyzing data on an ongoing basis.
The growth-driven design process of continuous improvement follows four steps:
Plan
Develop
Learn
Transfer
1. Plan
You and our GDD team will look at what needs to be accomplished in the next monthly sprint cycles. Planning ahead with be informed by the user data collected from the Launchpad's performance and the initial goals set in the strategy phase.
2. Develop
With a plan, the GDD team and the relevant department at your organization set the tasks and deliverables required for your site based on user feedback.
At this stage, we will track and measure the success of the relevant metrics and develop targeted marketing campaigns to drive traffic to selected pages. This may be for new pages, blog posts, email, and social media content or a combination with PPC.
3. Learn
The learning phase is a review of the experiments we have run in the development phase. The analysis of the results is a reference for new team members and future sprint cycles.
4. Transfer
We then share the findings from the learning phase with your marketing team. This will help other parts of the organization and help you make educated plans, which improves the business as a whole.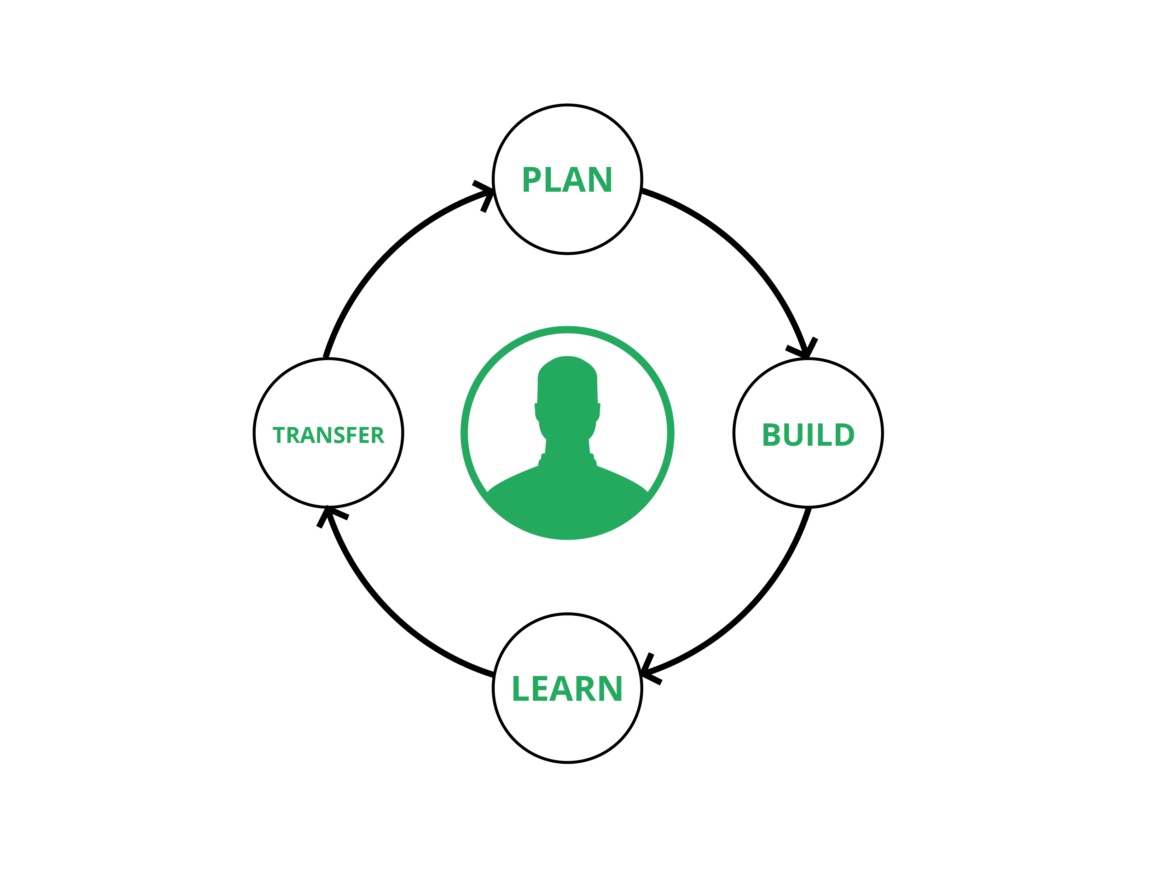 This iterative characteristic about GDD helps you achieve your goals by giving you valuable input for your strategies.
Just as your business is ever-evolving, your website also needs to keep adjusting and improving. Your website is your best salesperson, a site that's stale is a liability.
We practice what we preach for our website. With GDD we keep learning and improving and inform our marketing and sales efforts. This reduces working with assumptions and risks in what we do.
The experience we have learned from working with clients and projects gives us insights into best practices going forward. We leverage this data in our future projects using a framework that allows us to build beautiful websites quickly and efficiently.
We have learned that the most elegant website is not always the best for your customers. An effective website should educate visitors and help them solve their problems.
If you are not sure your website can help you achieve your sales and marketing goals, talk to one of our experts. Even if you are building a new website, you are in safe experienced hands. We will use acquired data over the years and expertise to build you a website that delivers.